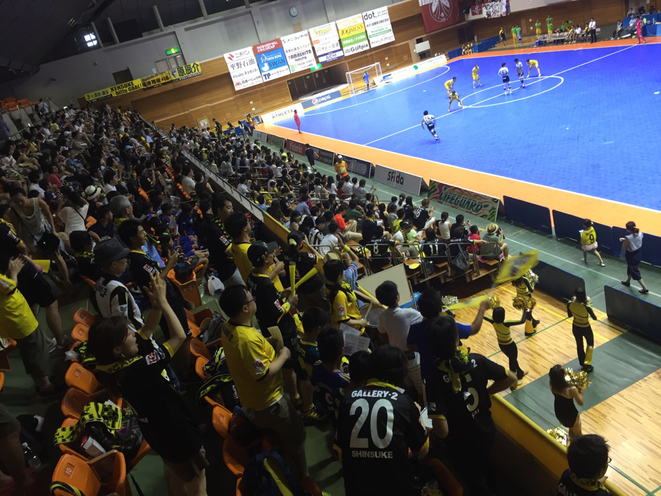 The "Tokyo Derby match" of Japan Futsal League (F-League) between Pescadola Machida and Fugador Sumida was held at Tokyo Machida city on the 6th August 2016 with the 1,440 spectators !
It was a really fantastic and great match between top two Tokyo's teams with lots of exciting moments until the end of the match.
As an advantage of home team, Pescadola Machida defeated Fugador Sumida by 3-2.
Machida wins four straight victories and never lost with the home games and Sumida lost for the first time during this F-league season 2016-2017.
Until the last time, it was very thrilling by the power play of Sumida and the spectators were so excited with the victory of Machida !
Now Pescadola Machida is provisionally up to the 2nd place of the league and we would expect their great performance for the rest of the season.
This "Tokyo Derby match" will be held among three teams in Tokyo (Pescadola Machida, Fugador Sumida and Fuchu Athletic F.C.) and you would be able to enjoy these great matches among three teams !
The "Tokyo Derby match" F-League 2016-2017 season's schedule ;
22 Oct 2016, Saturday 4:00pm Machida - Fuchu @ Machida
29 Oct 2016, Saturday 5:00pm Fuchu - Sumida @ Fuchu
18 Nov 2016, Friday 7:00pm Fumida - Machida @ Ota
24 Dec 2016, Saturday 5:00pm Fuchu - Machida @ Fuchu
08 Jan 2017, Sunday 4:30pm Sumida - Fuchu @ Sumida
04 Feb 2017, Saturday 4:30pm Sumida - Fuchu @ Sumida
Official Website (Japanese only)
Pescadola Machida : http://www.pescadola-machida.com/
Japan Futsal League (F-League) : http://www.fleague.jp/