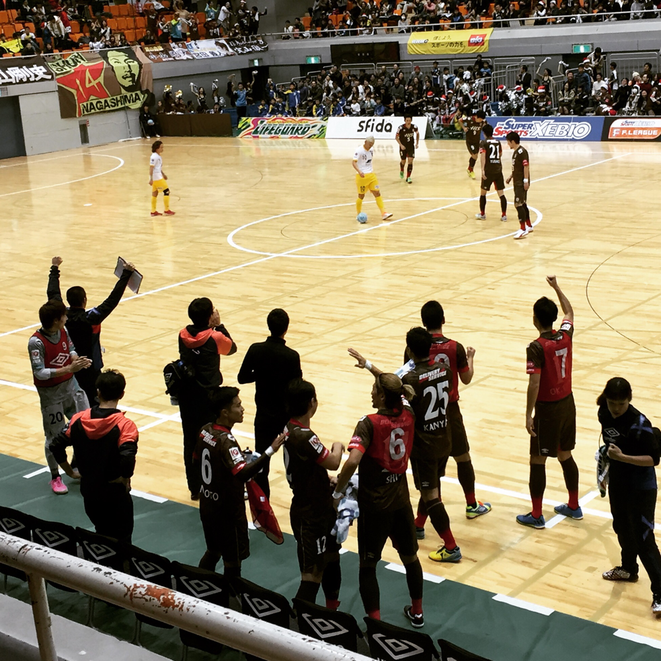 Hot moments again !
The "Tokyo Tama Derby match" of Japan Futsal League (F-League) between Tokyo Fuchu Atheletic F.C. (F-League 5th place) and ASV Pescadola Machida (F-League 4th place) was held at Tokyo Fuchu city on the 24th December 2016 !
By the middle day of 3 days holiday in Japan and Christmas Eve's match, it was a little hard to welcome the spectators however the game was so exciting with 954 spectators!
As the result of this hot match, Fuchu defeat Machida by 5-3 score with the advantage of home team and Fuchu supporters were so happy to have received the Christmas Gift of the victory against the local rival team in Western Tokyo Tama area !
The scoreline of Fuchu toward Machida is dominant by 2 wins and 1 loss for this 2016-2017 season.
(Total scoreline of both teams for F-league, Machida is dominant by 15 wins, 8 loss, and 2 ties.)
The derby match of Futsal F-league has been finished for this season, however it would be continued for the next year onward and let's enjoy the exciting games when you have a chance to visit !
Match Highlights for Fuchu Athletic F.C. (YouTube Movie) :
Result Details (F-League official site Japanese)
Official website (Japanese)
Japan Futsal League (F-League) :
Tokyo Fuchu Athletic F.C. :
ASV Pescadola Machida :